Clark Johnson Company represents the finest refrigeration equipment for the industrial food and beverage industry. No matter if you're making a small expansion or designing a green field production plant, Clark Johnson Co sales engineers can help insure the success of your project.
Value
The Clark Johnson value is making sure our customer's get the right refrigeration components to run their business. We understand money grows when cold flows.
Each system is unique and no two customers' requirements are the same. Our sales engineers are industry veterans from contractors, manufacturers and the field who know refrigeration systems from conception to completion.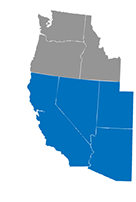 Clark Johnson Company, Inc serves the Western United States (CA, AZ, NV, UT and portions of WA, OR, and ID) and its diverse refrigeration applications.
Our product portfolio brings together the manufacturers of the nations food and beverage industry trusted to deliver value and performance.